Hi
So, the front header rail on my top frame cracked from metal fatigue on the front right side where it has a large rivet connecting it to the side frame. This is at the upper right side of the windshield frame.
I'd like to weld the repair. But, I am afraid the heat will melt the top in that area. So, can I remove the vinyl top from the header rail, make the weld, and successfully reattach the top to the header rail without damaging it? I did not install this top and have no experience installing tops. My understanding is that the top is glued and riveted to the header rail. Can I remove vinyl top from the header rail without destroying it?
Here are pics
For perspective, the broken spot is right in the center of the picture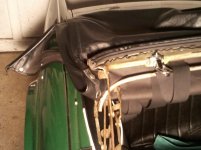 Here is how it used to look before it cracked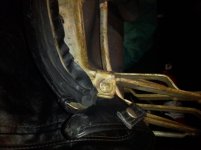 And here is the cracked (I highlighted the crack with a white pencil)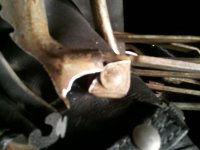 Any ideas?
Thanks
Bob
PS: sorry the photos are so small - my first time posting pix. If you click on the picture, I think it will open a larger version.