Decided to try my hand at "Focus stacking". The F-stop is 5.6, focusing close (Macro). The first image is what the rust is with just a single point in focus at the front of the coin. The second image is the result of "stacking" 25 images where the focus point is incrementally moved towards the back (focus bracketing), My R5 does focus bracken and you tell it how many images you want and what sort of increments you want. This is my first attempt, but in the second image you can see that the entire coin is mostly in focus. Still not sure exactly what I'm doing and have a lot to learn about how to to this effectively.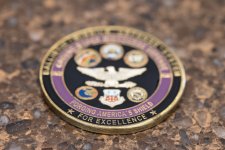 Now 25 images focus stacked:
Ok, my experiment didn't work as well as I had hoped. I tried to use the camera's internal focus bracketing function, but for some reason I could not get it to move the focus point. So, I too a series of 20 images (on tripod) and manually moved the focus from right to left, front to back manually. Then stacked in Photoshop. First image is just the first shot with focus on front bottle (f2 by the way). The second is a blended picture of 20 images with the focus changed in each.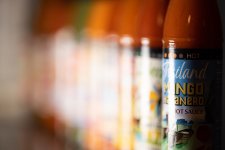 Focus Stacked: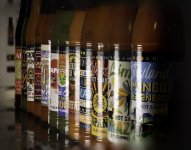 An impressive feature for sure.

You have two different camera-to-subject distances there, is it possible the ∱2.0 opening and closer to subject played a part in the less desirable result in the first attempt?
Yes, I think that had a lot to do with it (probably everything to do with it) The DOF was just so shallow that even with 20 shots the total focus field was only inches. I think if I had taken many more images at f2 I'd have gotten more in focus. This focus bracketing thing is going to take some practice for me to really understand how to best use it in specific situations.
I found a neat little focus bracketing calculator some You Tube guy developed. It's still Beta and he said it tends to over estimate the number of shots needed. But it give a good starting point.