Hello All,
My dad had a '57 100-6 when I was growing up in England. I have great memories of going for rides with my dad on the occasional perfect, sunny day with no chance of rain. We'd roar around the windy, hilly single tracks roads and I'd have a huge smile on my face. I spent many evenings out in the garage tinkering on the Healey with him. Dad sold the Healey when he and mom moved back to the US, and he bought this Healey many years later (about 8-9 years ago I think). I have 3 small children, and they all love going for rides in the '63 BJ7 around the neighborhood. Hopefully they'll have fond memories of the rides like I do with my dad.
However, the Healey does have some issues, which is why I'm posting. The biggest is the very hard starting when cold. Dad had the carbs rebuilt by a "Healey carb guru" in Florida before he passed. The carbs were rebuilt and sitting on his workbench when I installed them. The Healey started and ran in Florida, so I thought everything was good. But, once the car got to me in Virginia in the winter, she did NOT want to start. I found that the enricher/jet holder on the rear carb was frozen and will not move. So I can only choke the front carb and use generous amount of ether to start her. It then takes a looong time before she will idle happily on her own without being babied. Once warm she idles OK, but not great. If I back the idle down to 5-600 she will barely stay running. Also, the idle sounds a bit "rough". Not like an entire cylinder is dropping out, but not as smooth as it should be. I have a '99 BMW E36 M3 convertible with a 3.2L straight six, and the M3's idle is much smoother.
The other issue is that the engine doesn't want to rev out freely. I don't think I've had the engine much over 3,000 rpm because it just doesn't seem happy. And it doesn't sound quite right (compared to my memories of the 100-6 as a kid), either. The exhaust note just doesn't sound "clean", if that makes sense? I'm guessing both issues have something to do with the enricher/jet holder on the rear carb, but that's only a guess.
Can I do anything about the rear carb with it installed? I'm 6'-3" and don't have dainty hands, so getting the nuts and washers on under the carbs is a real chore, so I'd like to avoid pulling the carb(s) again if I can. I've tinkered with SU's before on dad's old Healey and on his daily driver for 17 years, his 1970 MGB-GT, but it's been a long, long time ago. I've tuned (re-jetted and re-needled) the Mikuni carbs on my modified RZ350 (RD350LC YPVS to any Brits reading), but that was 10 years ago also.
On to the pics. I took these a few days ago after the Healey had sat for probably 2 years. My youngest daughter had never even been for a ride, and the weather was cooling off where you didn't get cooked so badly from the heat of the engine/exhaust, so I decided to get her running again and take the kids out. I knocked the layer of dust off with some quick detailer, but did not wash her. She will look even better with a fresh coat of wax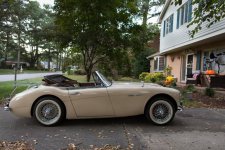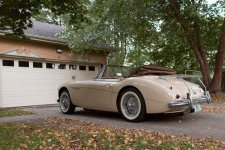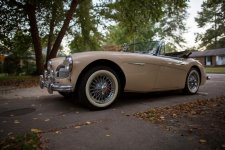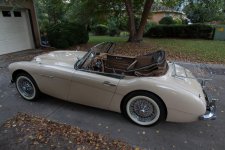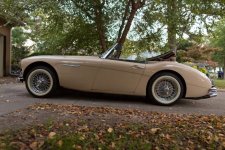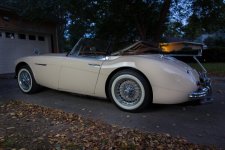 Larger resolution images can be found in the following links:
20141005-074B0340_zps18fdeae7.jpg~original
20141005-074B0344_zpsae8c3fe8.jpg~original
20141005-074B0345_zps54025daf.jpg~original
20141005-074B0350_zpsb487382d.jpg~original
20141005-074B0352_zpsa683cd3c.jpg~original
20141005-074B0383_zps207a4b35.jpg~original
20141005-074B0368_zpsf5939e77.jpg~original
Thanks in advance for any suggestions on the carb(s)/not smooth idling and driving issue.
Mike