Moderator
Staff member
Gold


After I got home from my morning drive it was time to paint my Rostyle wheels. Three of them were not too bad, a little rough but your basic Rostyle. The fourth was lousy yellow paint and surface rust. Not good at all.
I chose a basic silver color (Ford Argent silver if I remember correctly, it was what the local parts store had in a silver wheel paint, I wasn't too picky). I'm not a fan of the standard Rostyle paint scheme -- a bit to 70s for me. So I decided to just to a plain silver and be done with it.
Here's what I started with. One yellow and 3 silver/black wheels. Scratches, pitting, and a bit of surface rust. Otherwise they're solid wheels.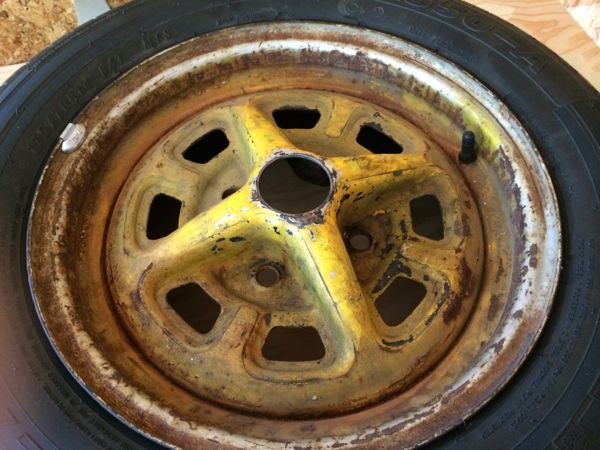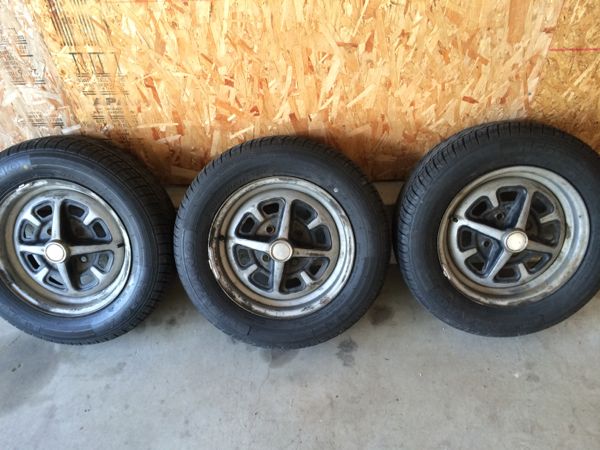 The common wisdom is that the most important part of a paint job is the prep. I'll add in that knowing what you're trying to achieve is just as important. I was only looking for a good 10' paint job, so perfection wasn't necessary or even possible with these wheels. Good enough is good enough here, and I proceeded accordingly.
I started with a wire wheel on the yellow wheel to clean it up and get some of the yellow paint off. Then I switched to sand paper to clean it up some more and rough up the surface for paint adhesion. Next was a quick wipe down with acetone to clean off any grease. While in this stage I pulled out an old toothbrush to try and scrub some of the grease, and discovered that the toothbrush/acetone combo cleaned off all the yellow paint too, leaving the original paint underneath pretty much untouched. So scrub I did, and got the majority of the yellow off. One more pass with the sand paper and all was ready for paint.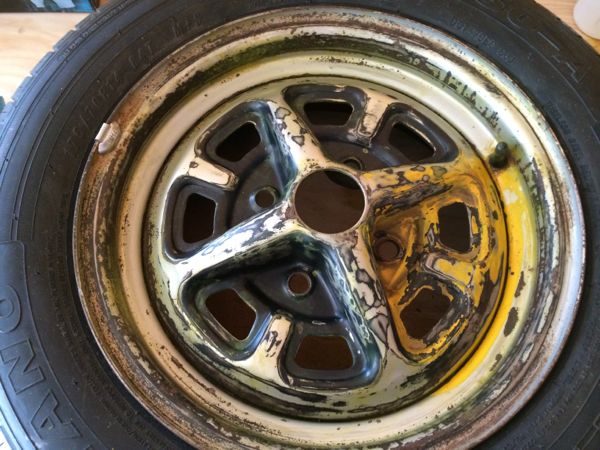 Spent a bit of extra time making sure everything was masked up carefully to keep the paint off of the tires. In a perfect world I'd have removed the tires and wheel weights before painting, but time and resources are what they are and I just had to mask off carefully. I'll have to repaint if I ever need to rebalance the wheels, but that's simple enough if it comes to that.
Paint went on in three coats, keeping things reasonably light each coat to avoid too many runs. In the end the paint went on reasonably well, certainly good enough for my needs.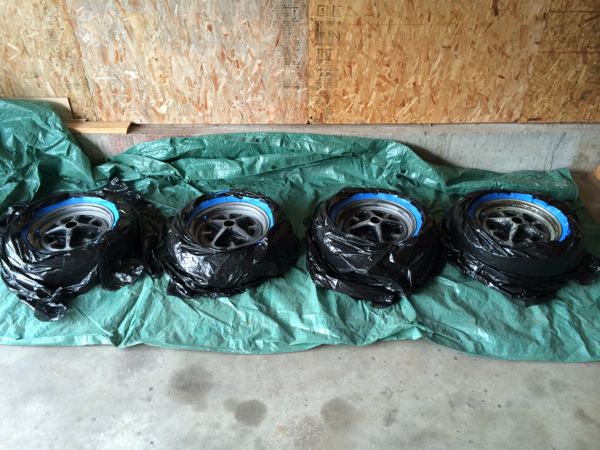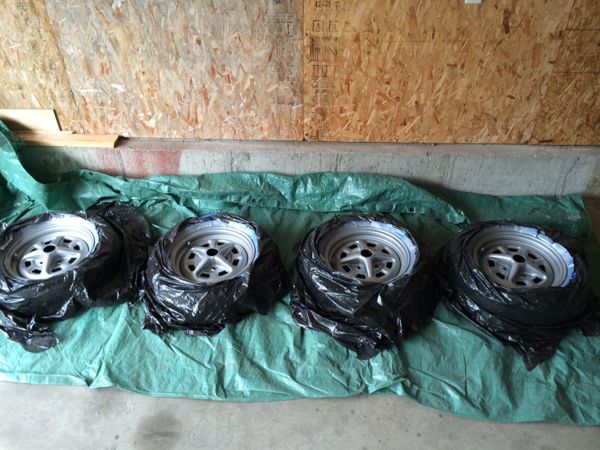 And the end result, a silver Rostyle wheel. The wheel in the picture is the formerly yellow/rust wheel. Cleaned up nicely in the end. They'll certainly do well enough for a driver car, and only cost a 6-pack of beer and a few dollars for the paint. I need to find one more wheel for a spare, and I'll be ready to go. All in all, I'm happy with the results and ready to get some miles driven!
I'll give them a few days to cure up, and on the car they go. Already ordered new center caps from Moss which should be here on Wednesday -- I'll have some completed pictures after that.