Lift the cover of the gearbox they have assaulted me several questions and I hope that I can help.
Starting with the simplest my odometer always it has swung much and when pulling out the speeedometer cable I found folded and with a slight resistance to rotation, I straightened it with a pair of pliers and seems that it has improved slightly but asni still believe that the best solution will be to replace it with a new one. Its appearance is this: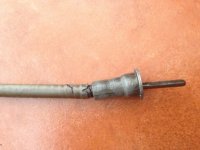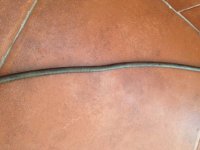 Looking at AHspares I see different sizes and I remember some old post which said that some of those who are sold, such as Moss, had to be trimmed. You tell me what reference that offers AHSpares for my model BJ8 is appropriate? They indicate 4.8 ". And other matters related to the odometer. Why exist different odometer for car with overdrive and without OD ? do any mechanical or additional connection in the odometer for OD cars?
Along with the gearbox, oil level is alarmingly low, I have read that many members recommended Redline MT90, which I cannot find in my local dealers, but that others use engine oil. I have in my garage Valvoline VR1 that overran of my last engine oil change would consider that it is appropriate to stop filling?
And finally worse not least: my overdrive stops working when I drive over 50 kilometres continued, sometimes already did not work until the next day returned to do so, awhile, when left the car to the idle or played with marches standing. Is a Normanville overdrive, that I don't know if it's the original in this Austin Healey model.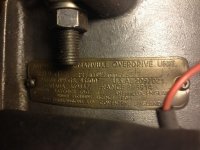 I now suspect that the failure may be due to the gear oil level, but reviewing the wiring I have come to realize that the previous owner or your mechanic had reversed the throttle switch and that in addition the installation cable is bare in a couple of places that would clean up the installation. Is it worth have overdrive throttle switch? How do I check and adjust this switch, do you have a diagram on the wiring color? Right now it is directly connected to the white wire and green, without going through the switch. Now connections are as well, I know scary.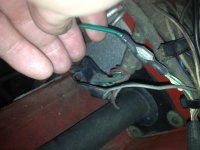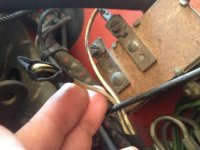 Thanks for reading the post I try to help me.
Un saludo.