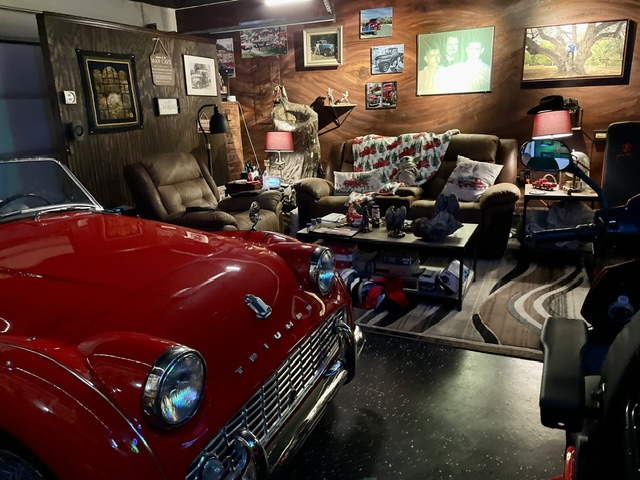 The purpose of this article is to introduce the concept of a man-cave and highlight the benefits of having one. I will throw out some ideas on how to get one started and also talk about my own experience.

A man-cave, by definition, is an area that is set apart for the man of the house. Whether the man-cave is inside or outside of a house, it is nevertheless an exclusive space, separate from all other areas at home. Said exclusivity is what distinguishes the man-cave from other specialty rooms, such as a den, study or library. The latter are still considered an integral part of the home which anyone in the home is entitled to occupy. A man-cave is also considered a place of privacy; thereby making it a special retreat or sanctuary dedicated to the man of the house. It is usually specially equipped for this purpose. It is also an area in the home where a man may do as he pleases. This summarizes the often-quoted line on wall signage, "Whatever happens in the man-cave stays in the man-cave."

As you might expect, a man-cave typically has a door that may be locked for complete privacy if the man so desires. No questions asked. This is not a rude gesture, rather an expectation due to the implied nature of the man-cave.




Types and sizes of man-caves vary widely. It can be a small room, for example, a dedicated bedroom in the house, or a small outdoor shed. It can be located in a converted basement. If a garage is converted into a man-cave, it comes with the added benefit of having a favorite vehicle(s) in it. Man-caves can also be large, such as a dedicated metal building. There are too many types and styles of man-cave to include in this article. Therefore, I will focus on one that is more likely to be applicable to vintage automobile lovers.

Elements of a man cave typically include, but are not limited to:
Entertainment center and stereo system.

​

Its own refrigerator or cooler. You don't want to be running to the kitchen for a drink.

​

Gaming system. In my case, an old X-Box 360 because I love the Tiger Woods Golf game.

​

A couch for invited guests. "Guests" include other members of the household.

​

A throne for man, such as a giant comfortable lazy boy recliner.

​

A bar with bar chairs if you are into that sort of thing.

​

Billiard table, ping pong table, poker table, or fold-out table and extra folding chairs for large gatherings.

​

Unique, and often unconventional decorations.

​

Lots of signage. In my case, relating to the vintage vehicle I own.

​

Treasured and time-honored memorabilia.

​

Unconventional wall coverings, as well as atypical floor and ceiling colors.

​

Cool lighting (See lighting).

​
The best man-caves are not built overnight. They should be a constantly evolving. The contents of a man-cave change over time in keeping with the updated personal interests of its occupant—the man. For example, my interests changed from a old chevy truck to a vintage Triumph Roadster. If the owner of a man-cave does not have an innate propensity toward decorating, he can always browse images online for ideas. The point is, developing a man-cave is an ongoing continuum. This keeps the place from every become stale and old. Therefore, one should have no pressure to ever "finish the job" because it is never supposed to be finished. Even if you have an idea on what you want it to be when you start, you don't have to do it all at once. It is too overwhelming to do it that way. Maintaining the notion of making a man-cave one giant project can diminish your chances of ever getting around to doing it. The point is to get started on your man-cave. Especially if that is something you have always wanted for yourself. To keep the peace, it is best to get a thumbs up from everyone in the house. A wife, in particular, needs to sign off on the man-cave.
​
I started my man-cave with a TV set high on the wall and a foldout card-table and chairs. Granted, this was before I even thought of making this space into a man-cave. However, I spent so much time in there that it was my man-cave without my realizing it at first. At that time, my garage tools were still on the wall (see pictures). The floors, walls, and ceilings were the same drab garage color as the day I bought this house. Even as such, I found myself spending more time in there.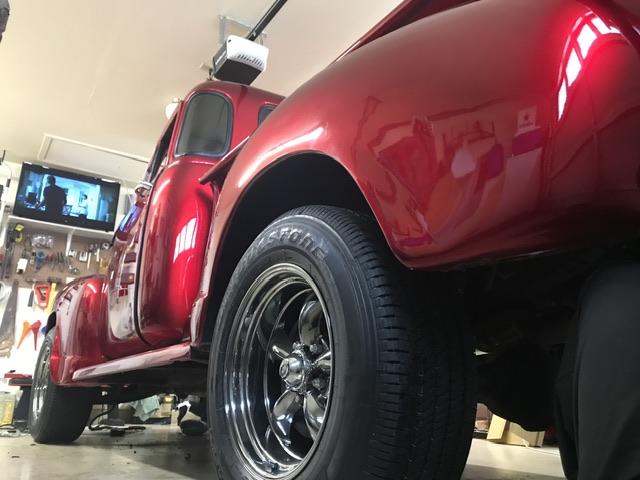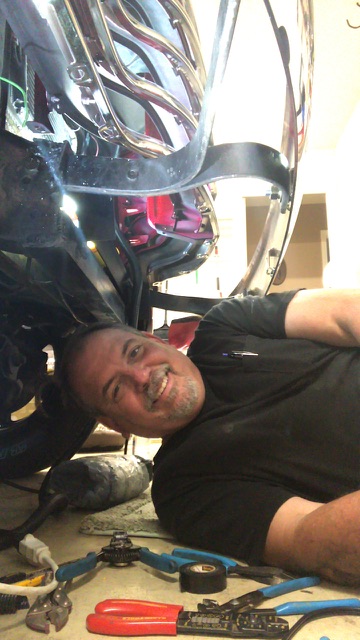 My son would come to visit us. He would spend the night and we'd spend hours in there, playing guitar duets or working on the 52 Chevy, or playing Star Trek trivia games. My son now keeps the Chevy Truck in his own man-cave, while I have adopted a 1960 Triumph TR3A.

We did not take notice that the man-cave was bare in color and devoid of decorations at the time. Now that my man-cave has evolved, I think I would give a care. This early man-cave was nonetheless a special place for me and I still carry fond memories of those early days.

The point I am driving home here is that one does not have to have every detail in place to begin their own man-cave. Happiness is being content with what we have in the present here and now. What we want but do not yet have does not exist in our reality. We should enjoy every step of the journey. This philosophy applies to all areas of life.

One might think, this is just a garage. And many car lovers enjoy the time spent in their garage. I think the main difference between a garage and a man-cave is that once the title, "man-cave" is given to this space, then it becomes proprietary to the man of the house.

Moving on. As I began to spend more time in the man-cave, it dawned on me.... "Hey, this could be my man-cave!" That, of course, led to me wanting to do more. I started searching images online for ideas. I came up with this idea to paint a mural on one wall. My goal was to have a manly accent-wall and give it a wooden appearance. Feeling inspired, I gathered some basic colors and began spreading them across the wall, going over and over it until eventually I filled the wall with a woody design.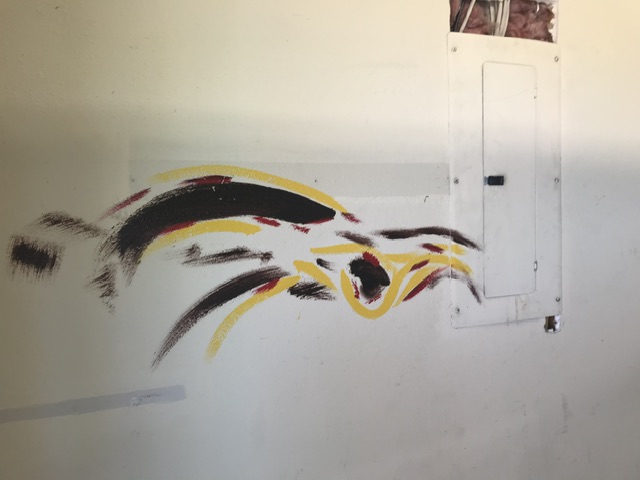 Later, I gathered all of my tools off the wall. I purchased larger toolboxes with drawers and organized my tools there. This freed up wall space for a larger TV. I opted for the last year's model at Sam's Club. I also used the free space to add more vintage signage, enlarged photos, and decorations.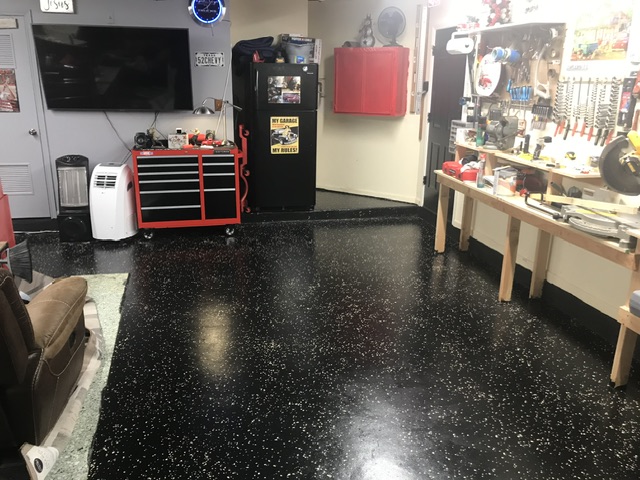 I went to Big Lots and found some comfortable furniture with affordable coffee and end tables to put in there. I painted the ceiling black and the floor a speckled black. The dark ceiling and floor added a whole new ambiance to the man-cave. That, coupled with the indirect lighting. I took some favorite photos to Walgreens and had them enlarged to put on the wall. I brought in a gaming system, my sculptures, guitar and amplifier. I also picked up a throw rug.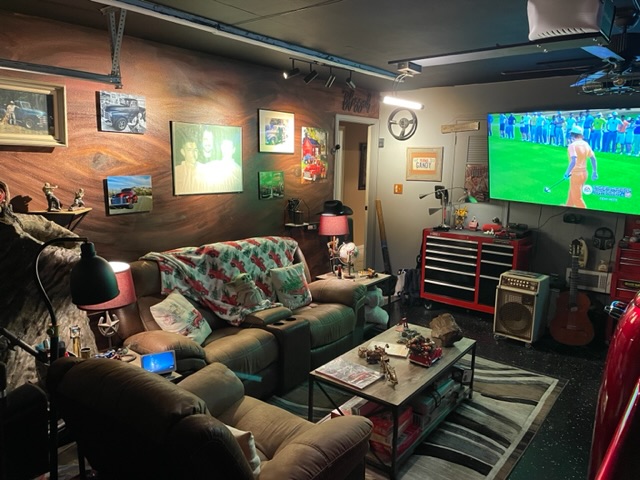 We assembled a lot of vintage jigsaw puzzles and put them on the walls where ever there was room. We enjoyed ourselves doing the puzzles so much I was a bit sad when we filled up all the available wall space. Nevertheless, the puzzles were an inexpensive, yet fun way of creating decorations. Using partitions also help divide up the space of a larger room. For example,

I installed an 8ft x 8th fake wall behind my recliner chair to enclose the seating area away from the garage door. We use the area behind the wall to store our eBikes.



I have come to understand that man-caves are very unique spaces. And, that it is okay to fill it to the brim with a personal touch. A man-cave isn't an ordinary room with neatly spaced furniture and portraits on the wall. What starts out as a garage conversion may by natural outcome become the most complex room in the entire house.

Think of a man-cave as being analogous to an oversized jewelry box that sits on the nightstand. In that one box a man keeps his favorite things, such as watches, cufflinks, rings, tie clips, pocketknives, arrowheads, old coins, a shark tooth found with a grandson on the beach… whatever memorability that will fit inside the box. These little boxes become cluttered and filled with memorabilia. Still, we would not dream of taking something out of them to create more room. A man-cave is just like that. Over time it becomes an oversized personal box you literally walk into—overflowing and surrounding man with his favorite things and treasured items. Keep this in mind while decorating the ceilings, walls, and floors. Clutter, not messy catch-all, is perfectly acceptable in a man-cave.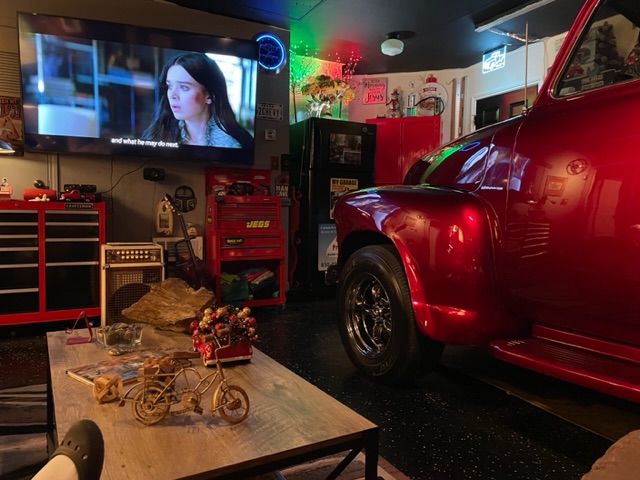 Regarding the lighting: There should be two types of lighting. One is indirect lighting, pointed towards the ceiling or the walls, away from direct line of sight. This is perfect for watching television. It provides a relaxing ambiance when visiting friends. It this feels too dark, then add more of the same. Shade lamps help to add more light. Old neon signs would be perfect if you can find them.

I purchased a large size art lamp on Amazon typically for use on a oversized wall painting. I hooked it up to the light on the garage door opener that is located in the middle of the room. This light points directly at the vehicle in the room. It is dedicated to showcasing the vehicle. You can see the reflective highlights of the art lamp on the vehicle in this photo.

The other kind of lighting should be bright lights. Unfortunately, these are not typically very cheap. You might find a good deal on shop fluorescent lights at places like Habitat for Humanity. I decided to purchase 8-foot LED strips (Two strips on each side of the room). I climbed into the attic and borrowed the feed from the single incandescent light that used to be there. I use these bright overhead lights when I am working on the car, doing an arts & crafts project, and general cleaning. Yes, man-caves need to be cleaned.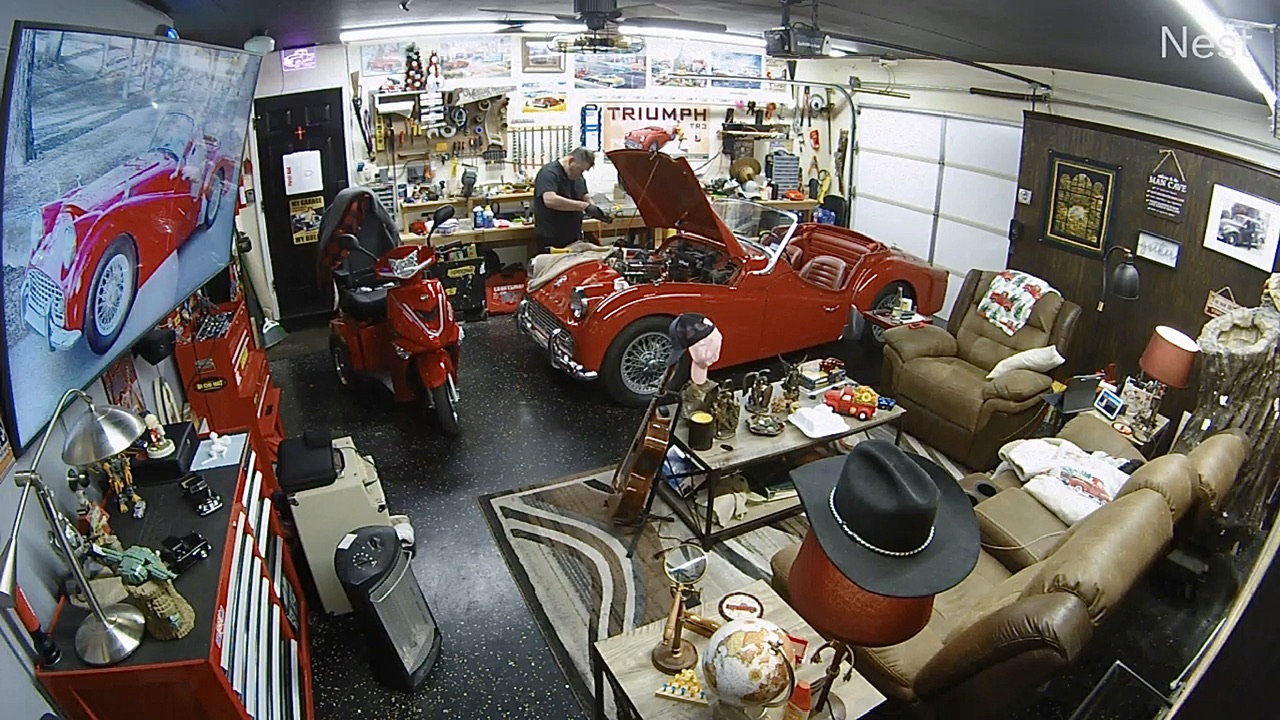 It is ideal to have climate control in the man-cave. I thought of adding a window unit but did not want the background noise they create. I would not be able to hear my movies well with it running. I purchased a portable floor AC unit, but it was also too loud and detracted from the audio of the stereo and the television. It finally occurred to me to pipe in an extra duct from our central air unit. That turned out to be easier than I expected. I went to the hardware store and purchased an 8 inch flex duct and I attached it to an existing duct in my central AC system. What a difference it made--real quiet too! Once I added climate control, I spent even more time in the man-cave. Prior to the climate control it was prohibitive being in there on days that were too hot or too cold. Now, I can be in the man-cave in the dead of winter and not be affected by it. I supplement the heat with an electric floor heater and that works just fine. A climate-controlled man-cave is accessible year-round.

To summarize: the purpose of a man-cave is to have a place in the home to call your very own space. This personal space is acknowledged by everyone in the house. It is a place to indulge in your favorite hobbies, to watch your favorite movies, sports, or to hang out with invited guests. Since I chose the garage for a man-cave, there is the added benefit of working on my Triumph TR3A (formerly my 52 Chevy pickup which is now at my son's man-cave.) A man-cave is more than an added convenience. It is not an overstatement to say that it can add to your psychological wellness. Conversely, boredom without a man-cave is depressing. Having your own man-cave creates a perfect compromise with family, as I often combine my "me time" working on the Triumph, with my wife and family as invited guests watching a movie in there. This makes working on my car an even more rewarding experience with family nearby.
So, there you have it. I hope this article has inspired you to consider finding a place in your home to develop your own man-cave. When you do, your imagination is the only limiting factor in developing it over time. Remember, none of the conventional decorating rules apply. When someone enters your man-cave, they will declare, "This is a MAN CAVE!"

​
Last edited: