well the term "cool" i guess is relative so let's just say it is a cooler car.
if any of you remember some of the threads i have written i have been concerned about how hot my car gets. i have tried ducting, a recurved diz, sleeved thermostat. etc. but i still felt it got too warm to easily. basically it would run about 110 over air temp and would climb pretty quick if i was at a light.
the thing i read over and over was a 4 core radiator. So instead of buying one, i decided to take mone to the local shop for a recore. the price was quite close to buying a black one from AH Spares but of course i saved all the freight. i had it quicker to. took it in on Wed and he was done on Friday. wow.
i looked at doing a staggered 4 core with flat fins and 12-14 fins per inch. but in the end i did a newer style core. it is still 4 cores but they are in line and it has the slinky looking type fin.
today was the first day i got to test it in some warmer air. it was 85-86 here today. before my car would have run over 190 and shoot up to a little over 200 if sitting at all. Today it ran 180 and would go up to a little over 190 if sitting. if i stopped at a stop sign and took off again, it would not even get to 190. the good thing was it would go right back down to 180 while i was moving. it seemed like before that if i stopped and it went to 200, it was very hard for it to get back down to the 195 area. so quite happy with my new core.
my only thought is that running in cooler weather will not heat it up enough. the other day i went for a short drive (10-15 miles). the air temp was 71 and the car barely got above the 160 mark. my thermostat is a 16o. so thinking i may have to go to a 180 thermostat.
a couple of surprises for me other than the temp dropping so much.
1) i expected going from a 3 core to a 4 core, i would need more coolant in the car to fill the radiator. that did not turn out to be true. i put back the same amount and it was plenty. engine even blew a little out in to the overflow. smaller tubes in the 4 core??? good possibility i guess. i read that with more cores you need to keep the coolant speed up.
2) it seems to take a lot longer for my car to get to temp. by that i mean longer to get to the 160 thermostat setting. not sure why that would happen. i could see it being better above 160 once the thermostat opens but this is before.
while i had the radiator out i thought it a good time to try a new panel or two as i like to play....
i added two side panels to the radiator to try and fill in some of the gap. i had a shroud (red) i had made so i riveted these panels to the back of them and painted them black. they don't show and not sure they help. but can't hurt i guess.
i also added a scoop under the car. the picture below shows it without the front bumper but i have put it back on now and it does not show. it just bends and goes up to the radiator. see below.
cardboard template.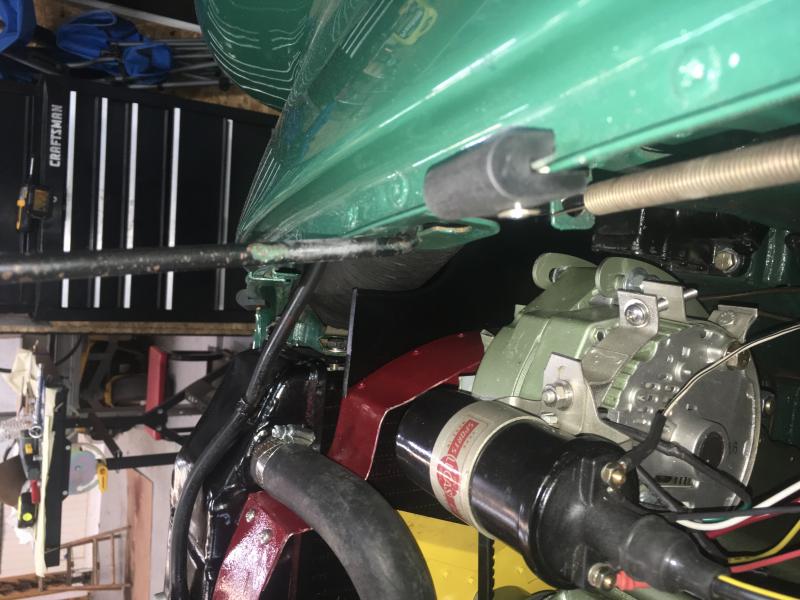 This goes around the hose and up to the wheel well. then out thru the opening a little right in front of the shock.
another template.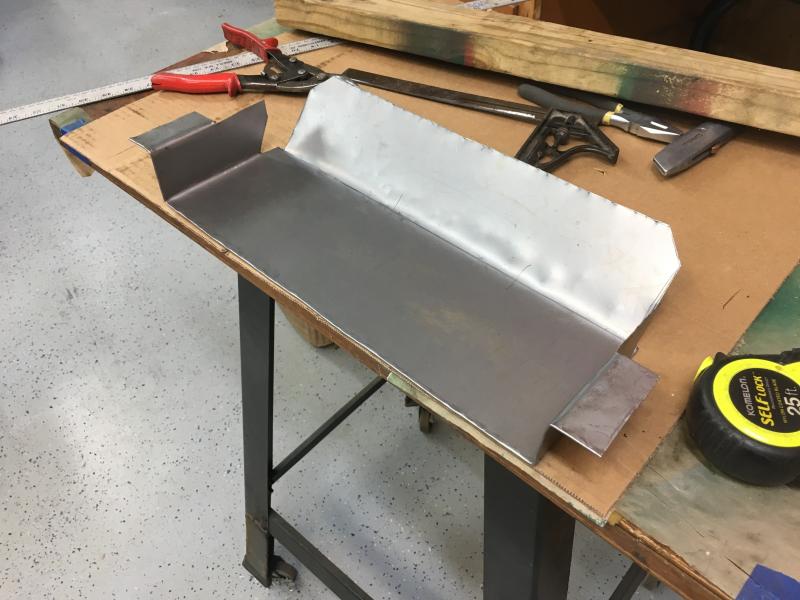 ready for drilling.
not sure these help all that much. i figure at some point i may start eliminating one at a time and see what happens. if it does not help, may as well get rid of it. So these panels plus the extra ones at the top of the factory air deflector are all i am using. Sure looked good today.