My First Jaguar in High School
by Basil​
I have
always loved British sports cars, especially Jaguars. I learned to drive backin 1966 in Bridgeport West Virginia in a 1960 Jag XK150 that belonged to a friend of the family (I was 12 years old)! Ever since then I longed to own a Jag of my own. One day, while driving down Hampton Bldv in Aurora, CO, I spotted a tan colored Jaguar XKE Coupe sitting at a service station with a FOR SALE sign in the rear window! I called the number and learned the car belonged to a couple who were selling it because they were expecting a new baby and needed a more practical car. What luck! I just happened to have had a 1963 Pontiac Catalina! I was only a junior in high school at the time (1971), but was able to trade my Pontiac to the couple and talked my Dad into co-signing a loan for about $2200 which was the agreed-to difference. I was in 7th Heaven! Here I was, a Junior in high school, and while all my friends were tooling around in beat-up Chevy's and Mustangs I was driving a 1967 Jaguar E-Type Coupe! The car was Valentine Beige (a non-standard color that had been special ordered and factory painted by the original owner). I have never seen another that color. It was beautiful!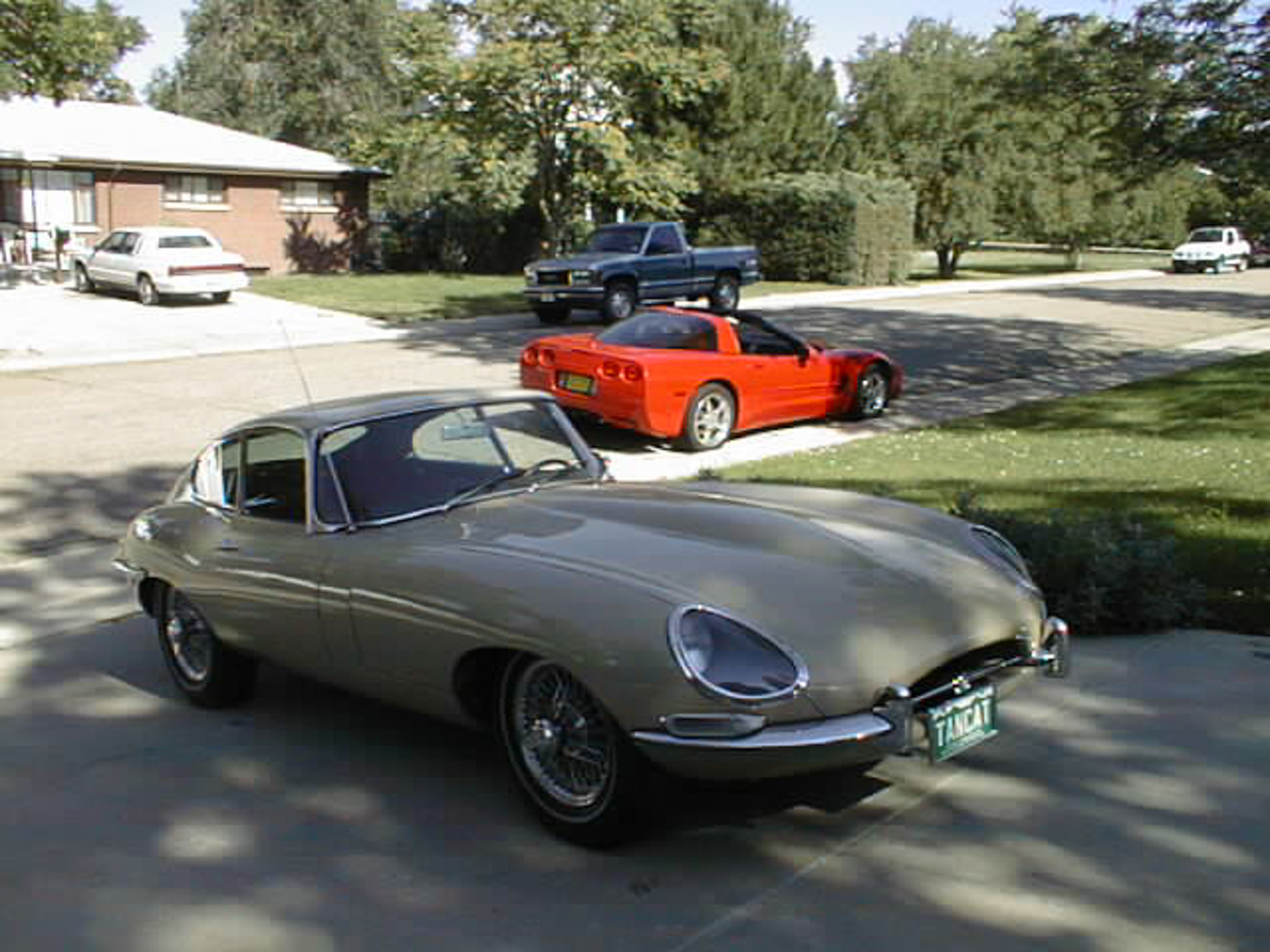 This was my car in High School – as it looks today!
Anyway, I sold that beautiful car in 1972 when I joined the US Air Force and I regretted that decision all my life (I eventually did get another E Type, but that firstone was something special). For years I wondered what happened to that car when one day, about a year ago, I saw a posting on a message list about someone with a beige or tan 67 E-Type. I managed to email the fellow and eventually spoke to him on the phone and learned to my amazement that he owned my old Jag! His name is Ben and he lives in Colorado. The car is still in very good original condition (he did repaint it the original color) and he sent me a picture as it looks today! (The picture you see at the top of this page) Not long ago, while visiting my sister-in-law in Denver, I looked up Ben, the current owner, and he invited me over to see my old car. When I got there, not only did I get to see it, but he let me drive it around a bit! What a thrill it was to drive my old high school car 28 years after selling it! Thanks Ben!!
Last edited: