I was noodling around today, and thought I'd share the fun with all of y'all!
You take off your shift boot, and are greeted by this: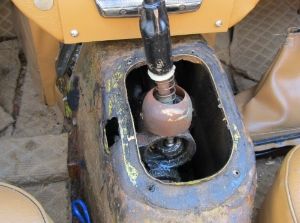 A quick inspection reveals that the nylon gromit has shattered. It holds the shift lever in place against spring pressure under the retaining cup. When it breaks through the top of the cup, there's nothing holding the shifter in place. There's no way to remove the gromit, replacements are unobtanium, and you don't want to pay big bucks for a whole new lever assembly that'll probably break again anyway.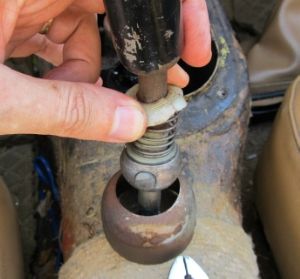 Here's one solution: cut the top off of a tennis ball, drill a 1/2" hole, cut a slit in it, and slip it over the broken gromit.
Assemble it with the retaining cup over the tennis ball, and drive on. It feels exactly like what you'd expect shifting through a felt-covered thick rubber washer would feel like.
Here's the problem: it lasts about a year until the ragged edge of the gromit wears through the rubber and works itself through. Then --oops-- you go for reverse, rip out your shift lever, and you have to cut up
another
tennis ball. I've been doing this for years, and keep an extra fresh tennis ball slice in the trunk for when the old one lets go.
I've gotten tired of the routine, and thought I'd try something new -- a large cotter pin...
...bent into shape...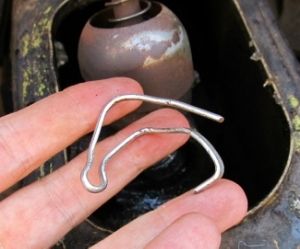 ...and clipped on the shifter over the remnants of the nylon gromit. (I considered using a clevis pin, but they are
very
hard to bend.)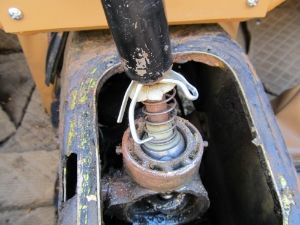 The retaining cup holds the cotter pin, gromit, and spring in place. Shifts feel a little looser, and reverse doesn't take as much effort to get into. The spring isn't as tight, and the rod pivots through the cotter pin, instead of sliding and wearing the tennis ball.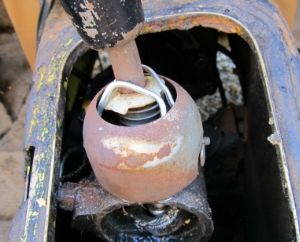 Voila! Button up and drive away. Time will tell if the cotter pin is a better solution than the tennis balls were, or if the pin will loosen up over time.